My cousin has a plaque in the veranda of his cottage at the lake:

And I have the words from some ad on my fridge in my cottage: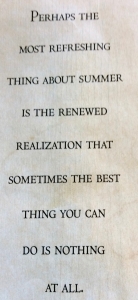 I am in my happy place-my family's summer spot on Lake Winnipeg. I am in the sun filled veranda watching the sunlight twinkling on this inland sea. The wind rustles the leaves, birds chatter and I am still. I am a receiver, open to what comes to me without any effort on my part.
Sometimes I have CBC radio on and ideas/opinions start my mind meandering down a path; sometimes I play an LP from another era-Billie Holiday, Peter, Paul and Mary, Odetta-on a record player in a cabinet, also from another era. Mostly I sit in a rocking chair that came with the place.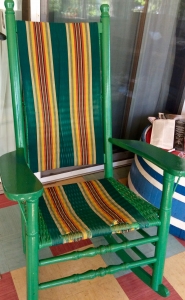 The rocking itself is soothing, a quieting of my spirit.
Being here, surrounded by furniture and "stuff" heavy with memories is a return of sorts. Just as I return each summer being here allows a return to another aspect of being. A reclaiming of parts neglected in my regular life. These annual trips feel like a pilgrimage of sorts: a journey to a source that is always there waiting to be tapped for renewal and replenishment of my soul.
Picture a pawn shop: I deposit an item of value but anticipate a happy moment when I can reclaim it. What is "it?": Partly my childhood, lost friends and family but mostly the openness of down time. The sweetness of awakening to a new day as a blank slate.
Projects here feel like play. Even housekeeping feels like "playing house." Nothing really matters. No one judges how I look or dress: in fact when I emerge in some throw back sweat shirt or very dated tee I am greeted with bemusement. I have my city clothes but usually opt for fun, if odd, thrift store buys.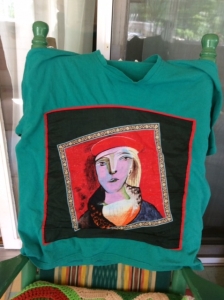 When this cottage community first started, 1912-1920, Winnipeggers would flock to escape the summer heat to the beaches via the train that sold lots here. As kids we would lay pennies-now extinct in Canada- on the tracks and run to retrieve the flattened disks. Now the train-saved from extinction itself by the distillery north of Gimli-only comes once a week not twice daily. Kids still run to wave to the engineer when they hear the whistle. Not just kids- some of us sixty plus years stand at corners and wave, too.
Here simple pleasures feed my soul: hanging my clothes on the line-something I don't do at home; riding my bike to buy the newspaper; sipping tea out of fancy cups with my mom's name on a piece of tape on the bottom-identifiers needed as they attended bridge parties and events elsewhere. We typically use mugs so these prized beauties live here at the lake retired now from their social obligations. I, too, am free of obligations.
Rocking in the veranda, I can't help but think of retirement. Many friends have retired but we still work and a lot. Inn-keeping is demanding and full-time, plus. This rocking, this sitting still is seductive. But I am not like the teacups. I am still active in the bigger world and enjoy the connections engagement allows. I know before long restlessness will creep in and clock time, reassert itself. I will be ready to return-another return-to my regular life.
But for now I savor every moment of this down time, this time out, this reboot. I am here now, fully here. And my heart, body, mind and soul are ever so grateful.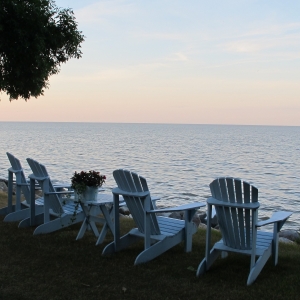 Playtime:
If you have a special place allow yourself to travel there in your imagination. Represent the place, the feeling or any aspect that carries meaning for you with some art making or writing. Find images that recall that place, perhaps a clock, a hammock, a beach or forest. If you have photographs add those to a collage. Create a memory box. Free associate words you attach to the place or feeling to write a poem.
If you do not have a place or cannot think of a place simply recall a time when you felt particularly at home, at ease or at peace. Perhaps while walking on a beach, listening to music or even just stretching out in your freshly made bed. Allow that experience to evoke some images.
If you are stuck try to create a spot: picture where it might be, what it looks like, why it is special. Collage or do any of the above suggestions.
Recall significant events or people from your past. Honor them with words or imagery. I am always touched when I see a recipe in my mom's handwriting. She often identifies a recipe with the name of the person, for example, "Ella's White Cake." These cards stimulated a collage. See if any object triggers an emotional response to another time or person. Play with that.
Have fun.
Save
Save
Save
Save